Model

Specification

Quantity
20GP/40GP/40HQ
(sets)

Vacuum Tube

Water Tank

Diameter
(mm)

Length
(mm)

No.
(pcs)

Absorb area(m2)

Inner Dia.
(mm)

Outer Dia.
(mm)

Capacity

SR-PC/PS-10

58

1800

10

1.40

360

470

100L

60/120/155

SR-PC/PS-12

12

1.66

118L

54/112/133

SR-PC/PS-15

15

2.08

143L

45/94/112

SR-PC/PS-18

18

2.57

168L

38/80/95

SR-PC/PS-20

20

2.85

185L

35/73/87

SR-PC/PS-24

24

3.41

220L

30/63/75

SR-PC/PS-30

30

4.25

271L

25/52/62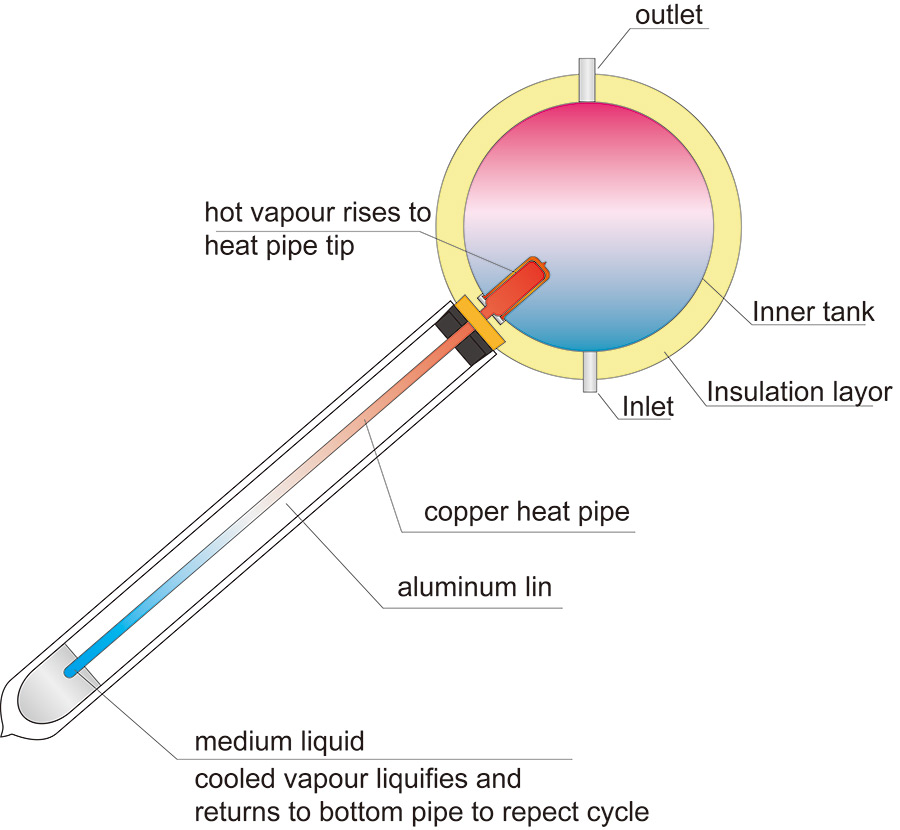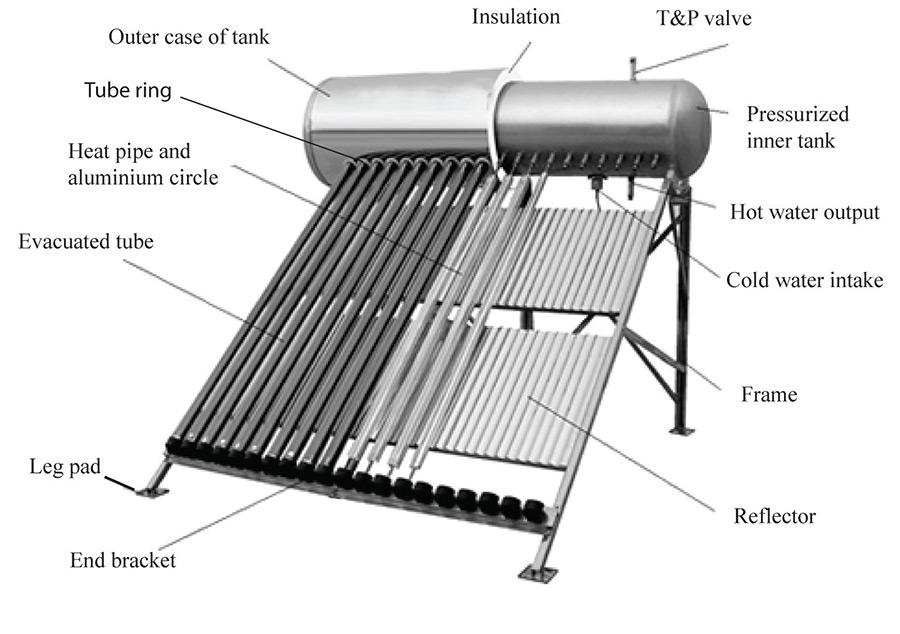 Working Principle
Compact Pressure System Working Principle:
Vacuum tube collect heat from sunshine, aluminum ring inside transfer the heat to heat pipe, then heat pipe transfer the heat to water inside tank, the system start and transfer heat is quick in cloudy and low radiation days, daily average heat efficiency can up to 55%.
Specialty
1.High thermal performance and working temperature: the heat exchanging rate even in winter can up above 55%.
2.Heat collecting efficiency is at least 20% above common solar systems.
3.Work in all day and all season: no matter any corner of the world, this system can work well even -40℃ to avoid the tube freezing problem.
4.Reliability: No water following through the tube, so water scale can not generate and tube cracks could be avoided, the system still can keep working even with some damaged tubes.
5.It can connect with water tap and work automatically with pressure0.6Mpa, bring enjoyable washing experience.
6.Safety: P/T valve would release pressure and temperature to protect tank.
Technical specification
1.Outer tank material: SUS304 stainless steel or powder coated color steel
2.Inner tank material: 1.2mm thick SUS304 food grade stainless steel( Optional material SUS316L)
3.Vacuum tube material: borosilicate glass 3.3; AL-SS-CU absorb coating, with copper heat pipe inside
4.Frame material: 1.2mm thickness stainless steel
5.Insulation material: 55mm thickness polyurethane
6.Suitable for mains pressure water(up to 8 bar/116psi)
7.Easy plug-in installation
8.Install the T/P valve on the pressurized tank
9.Seal material: Stabilized High Temperature Silicon